London-based Interior Stylist, Lucy Gough tells us how to achieve the hottest interior trends in your home...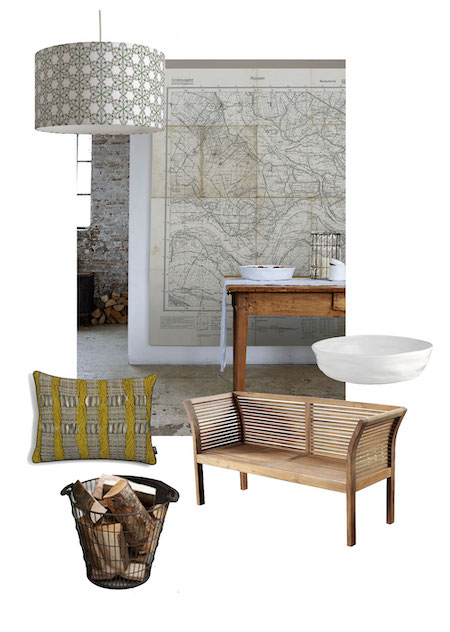 Make your home reflect eclectic tastes from around the world with the Explorer trend. Featuring items from the Vintage Maps Collection, 7Gods and the Maximalist Edit. Lucy explains how to pull off this globe trotting look.
'The Explorer'
At Surface View HQ, the belief is that when you style your interior it should tell a story about you. This scheme would suit someone who is a traveller at heart. I love that Surface View can create amazing large-scale maps that can fill your wall from skirting to cornice. Mix it up with some soft timbers, organic earthenware, and accessories like this gorgeous knitted cushion from the Maximalist edit to finish off the look!
Step away from the stripes with Lucy's sophisticated twist on Maritime decor...
'British Maritime'
When you think maritime, don't think nautical. Nautical is typically blue and white stripes, a splash of red, anchors etc. Maritime has a more vintage feel than that. Pair soft timbers with organic shapes, hand-blown glass, soft blues, greens and greys. Including accents like rope and sails.
Surface View have a range of prints, murals, cushions, accessories (and even ceramic tiles!) that could easily translate into a Maritime interiors scheme.
If you don't have a light filled space, don't worry. Painting your space in light colours like icy blues, pale greys and soft neutral shades will help to make your space feel as large and airy as possible.
I absolutely love the Octopus cushion and would love to use the graphic image on a large scale in my bathroom! It makes designing your interior so easy when you know you can pick an image and have it printed on almost any surface that you want.
Who says the New York Loft look can only be achieved in warehouses, our Textures collection is ideal for creating worn walls without any lasting damage. Follow Lucy's lead and add some wonderful window film...
'New York Loft style'
One of my favourite looks, the 'loft-style' trend includes things like exposed brick, crittle windows, wooden floors and 'well-loved' textured surfaces.
Surface View have an incredible service where you can make window film out of any of their images (amazingly, they hold rights to the archives from the V&A, British Library, National Maritime Museum and many, many more). They come pre-cut to fit your dimensions and you can apply them yourself if you feel so inclined. It's a great way to keep your privacy if you happen to live on a busy road! It's so nice to think that you can have the map of your city on your window as you look out onto the city itself!
Will you be trying out any of Lucy's top trends?