We've put some of your real life dilemmas to design journalist and trend consultant Rohini Wahi for her advice on how to transform your home and offer solutions for those tricky spaces...

Q. We're converting an upstairs bedroom to a bathroom in our little Victorian terrace and so need to create privacy with the window. We love the idea of having one of your stylish window films, but are struggling to know what would work in the space in terms of colour and design.
To give you some context, we're tiling our bathroom with the light grey bevelled metro tiles like the image below, the only difference being we're using a charcoal grout for a bolder look. We have Victorian style white fittings and traditional silver taps.
We'll keep the skirting, wall and ceiling brilliant white to contrast with the tiles. I had thought about going with the Victorian look with some botanical prints for the window film (which might still be nice) but I'd love more inspiration as I'm finding it difficult to visualise what will work!
- Rhea Bawden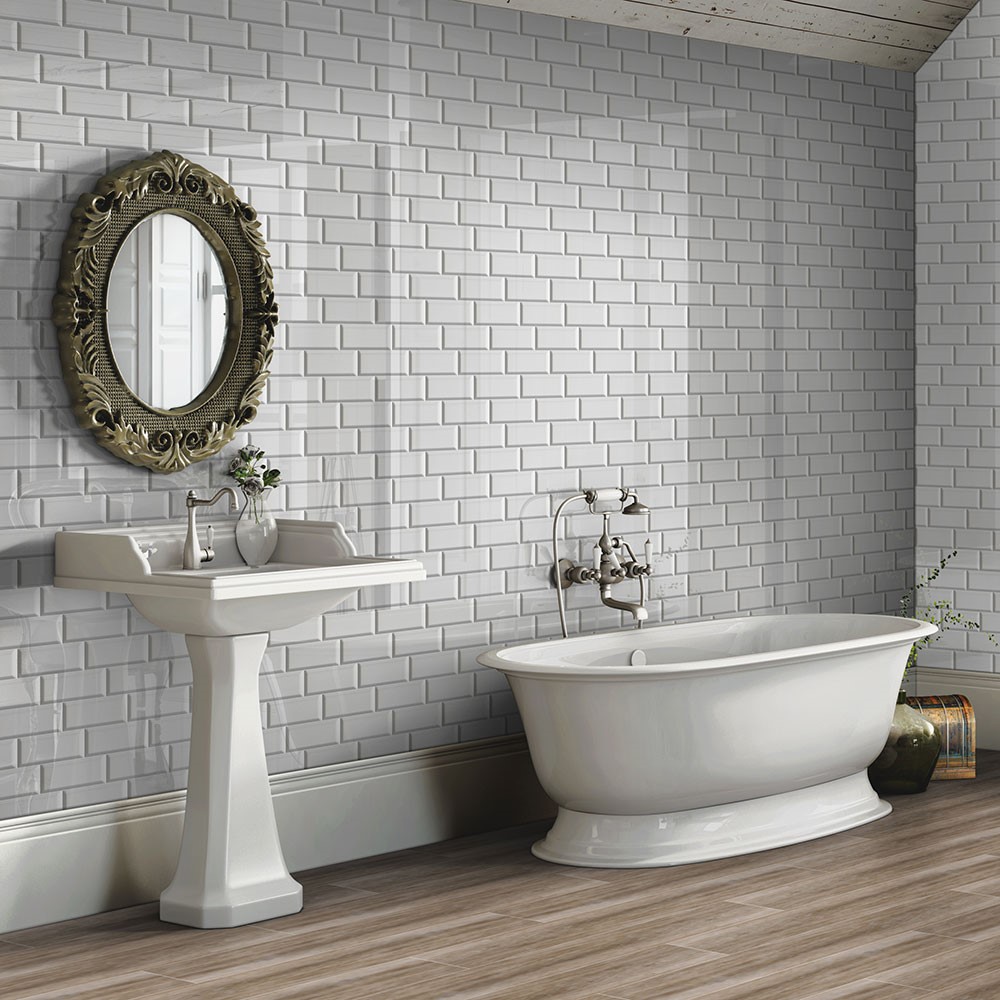 Rohini: Your bathroom sounds very elegant, minimal and considered - which can often be one of the toughest looks to to inject a different element into.
Sometimes you just need someone else's eye to give you confidence… I personally think the botanical prints would be spot on… flowers and vintage botanicals feel really at home in bathrooms - especially those with a vintage angle.
That said - the Grey world maps and The Garden of Eden and Porcelain in Grey window films evoke the same fresh contemporary look. I think any of those would add the perfect narrative to your contemporary trad bathroom.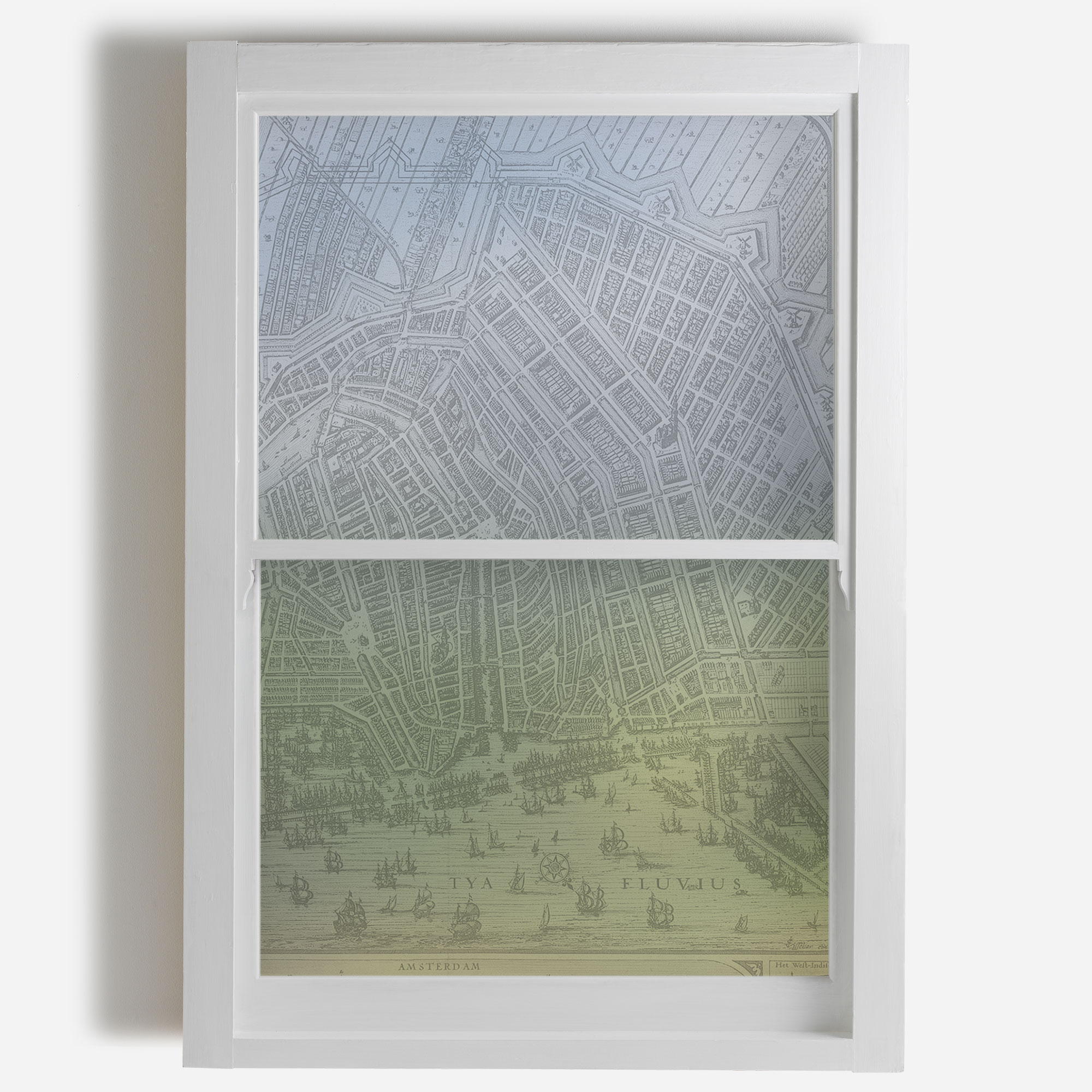 'View of Amsterdam' Window Film | National Maritime Museum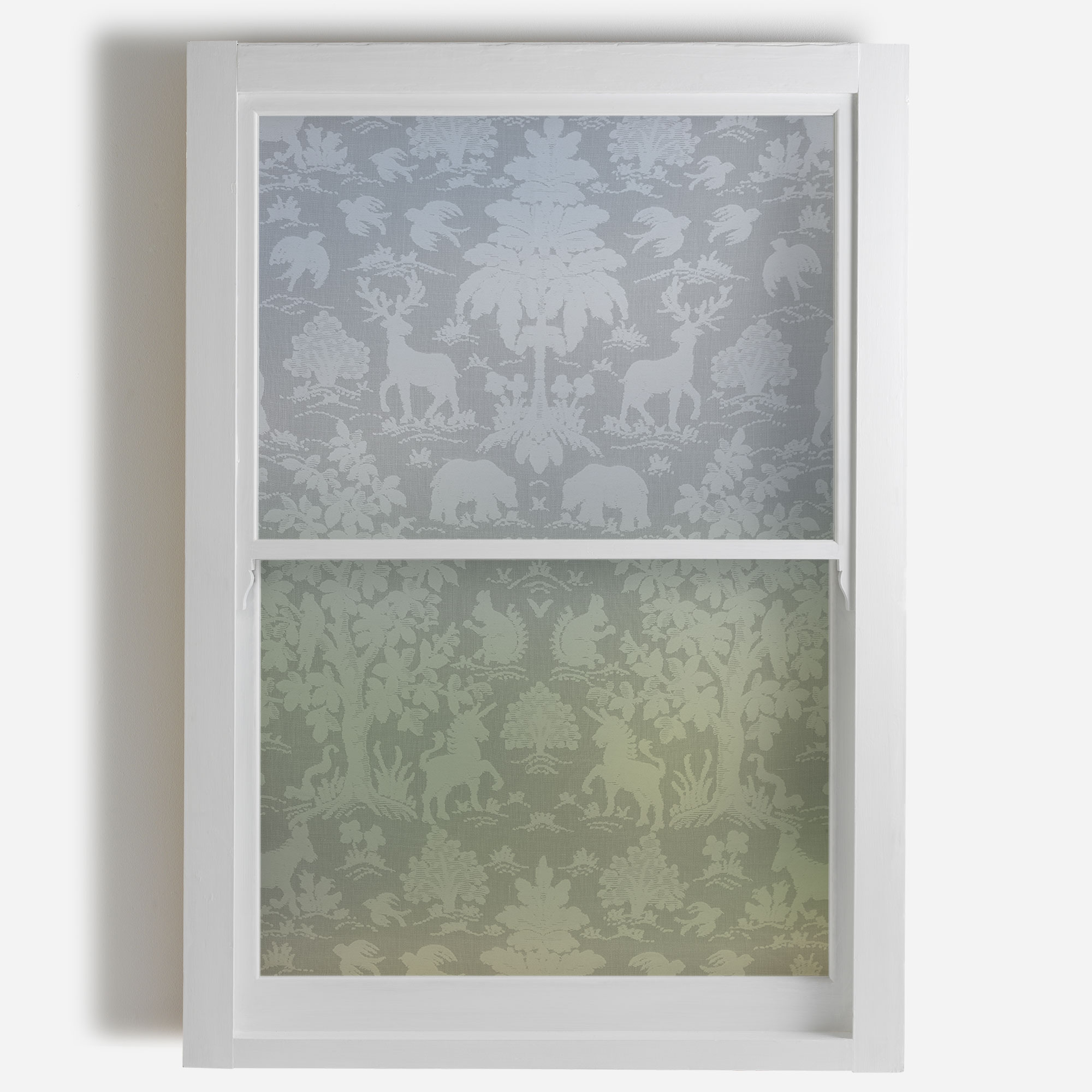 'Garden of Eden I - Grey' Window Film | Warner Textile Archive
Q. I have this strangely shaped chimney. I have an old college poster on it right now and need to upgrade. Any suggestions? Open to a picture all the way up to wallpapering the whole thing.
- Zimran Ahmed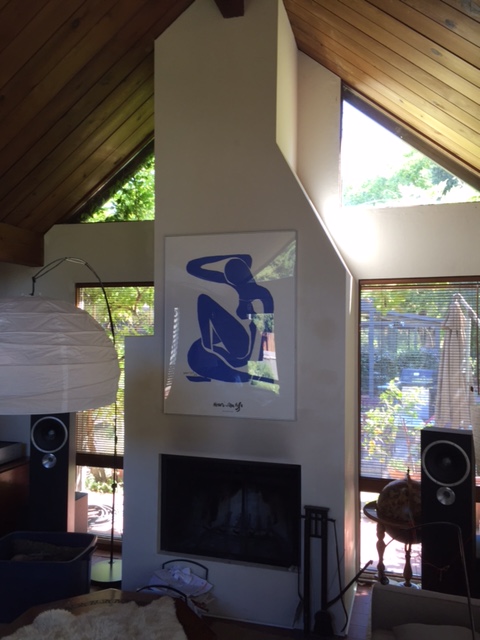 Rohini: Wow I love the architecture of that room - although I can see how you might find the chimney awkward to address. It's tempting to just put a nice poster up but I'd go all out and try a wallpaper that picks out the warm hues of that great wooden ceiling and window panes and highlights the nature through the windows.
I have selected a few options for you by filtering by colour (ochre or teracotta) then by image type (pattern). I love this organic and textured leaf print that isn't too overwhelming because of all the negative space and keeps the look modern but a little mid-century..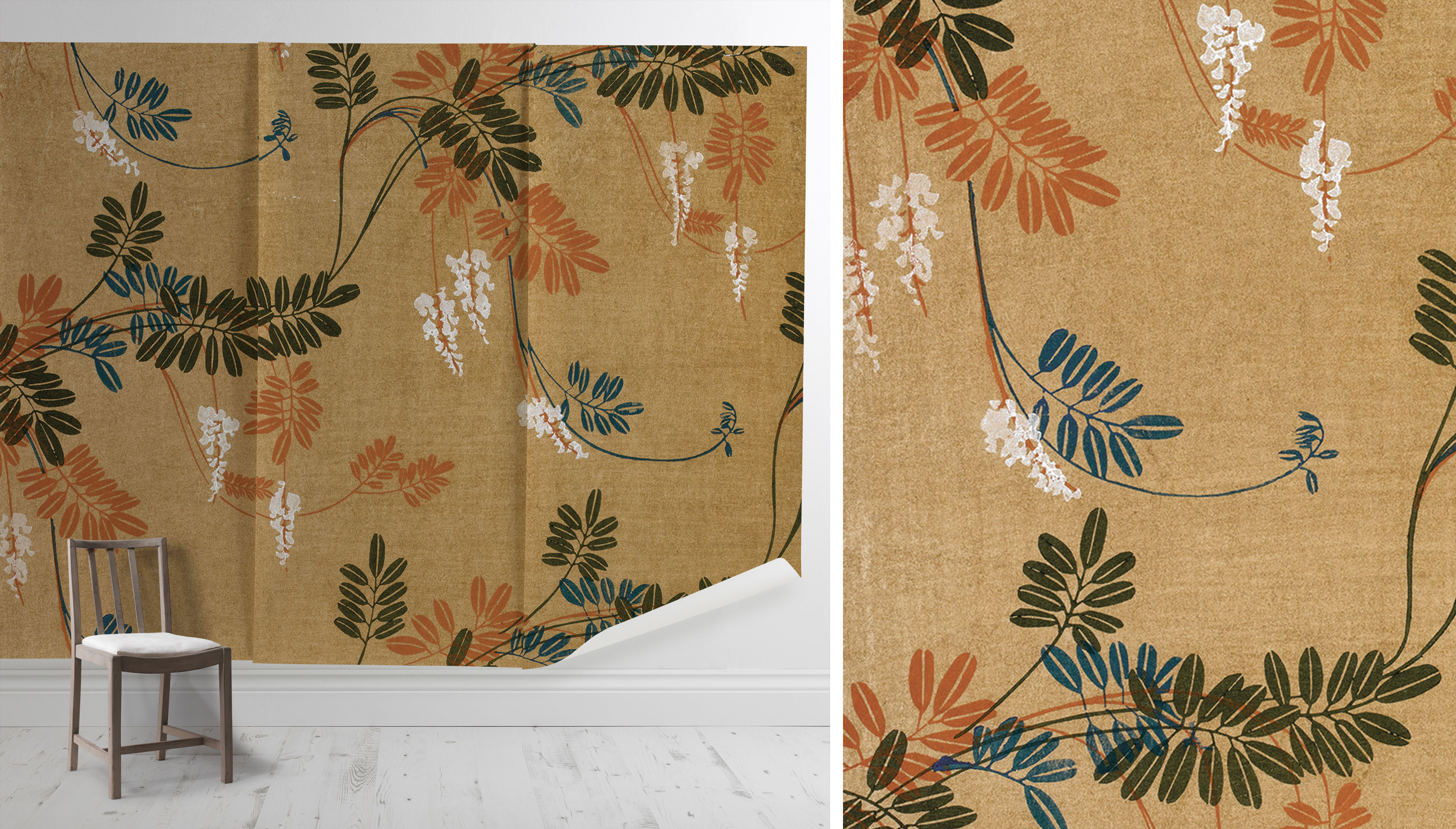 'Floral Design' Mural | British Library
Q. I live in an old house and some of the rooms are really large and some are on the smaller side. How do you approach decorating the smaller spaces versus larger spaces? I'm feeling overwhelmed by the bigger spaces as I feel like it needs something special, but I don't know how to pull it off.
- Francesca Caldwell
Rohini: If I had this very luxurious dilemma I would work on cosying up the larger rooms with prints and pattern. I live in an apartment so minimal walls are key to making it feel spacious but I think elegant busy patterns are perfect for large spaces.
I don't know what period your home is but I am totally in love with Surface View's luscious floral William Morris murals. If you used these in a large room it would make it feel special like you want and also reduce the perception of space so that any furniture you have in there wouldn't look like it is rattling around in an empty room.
I would then use colours picked up from the prints (like a chalky rose in the Blackthorn Mural) to decorate the smaller rooms so the scheme flows.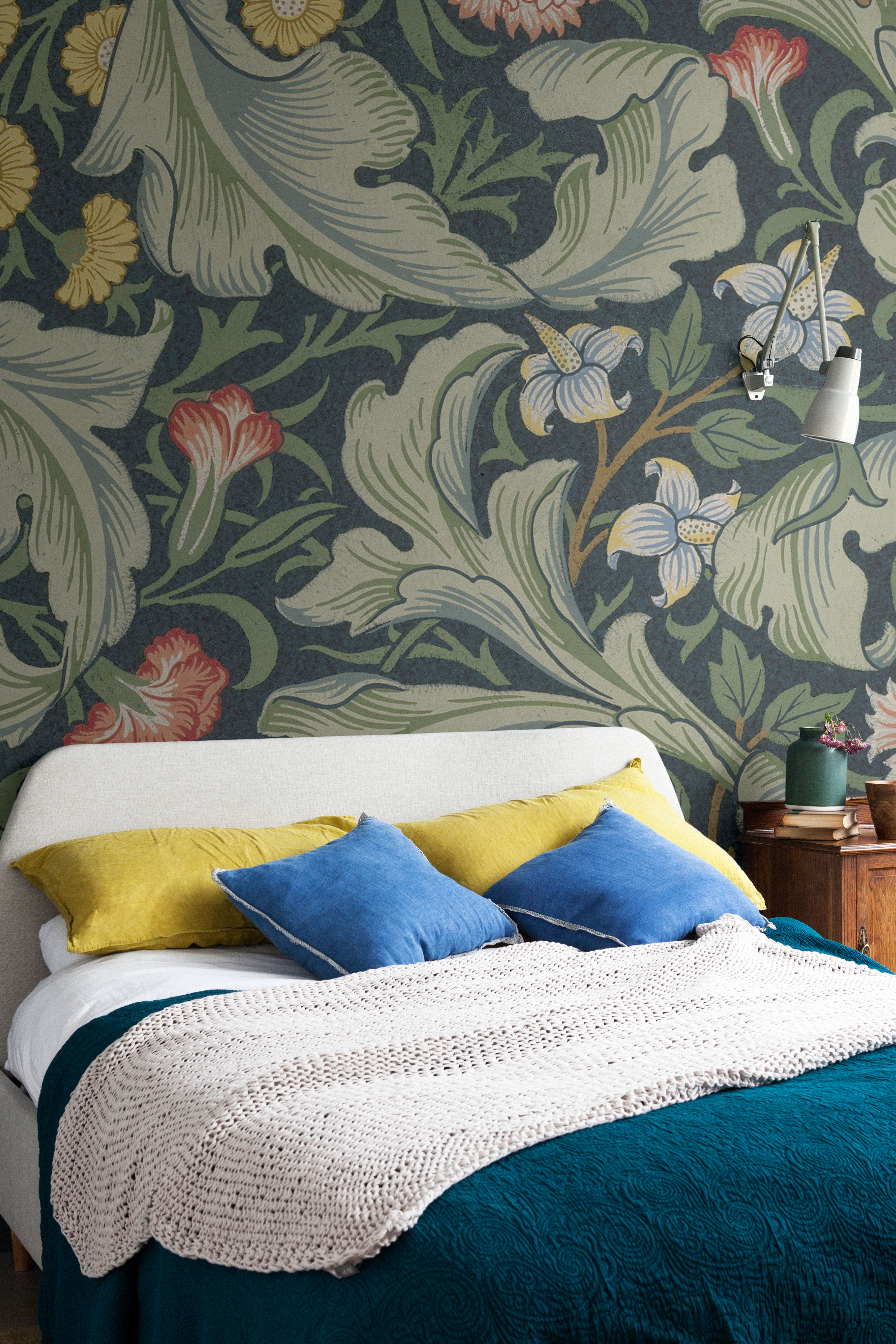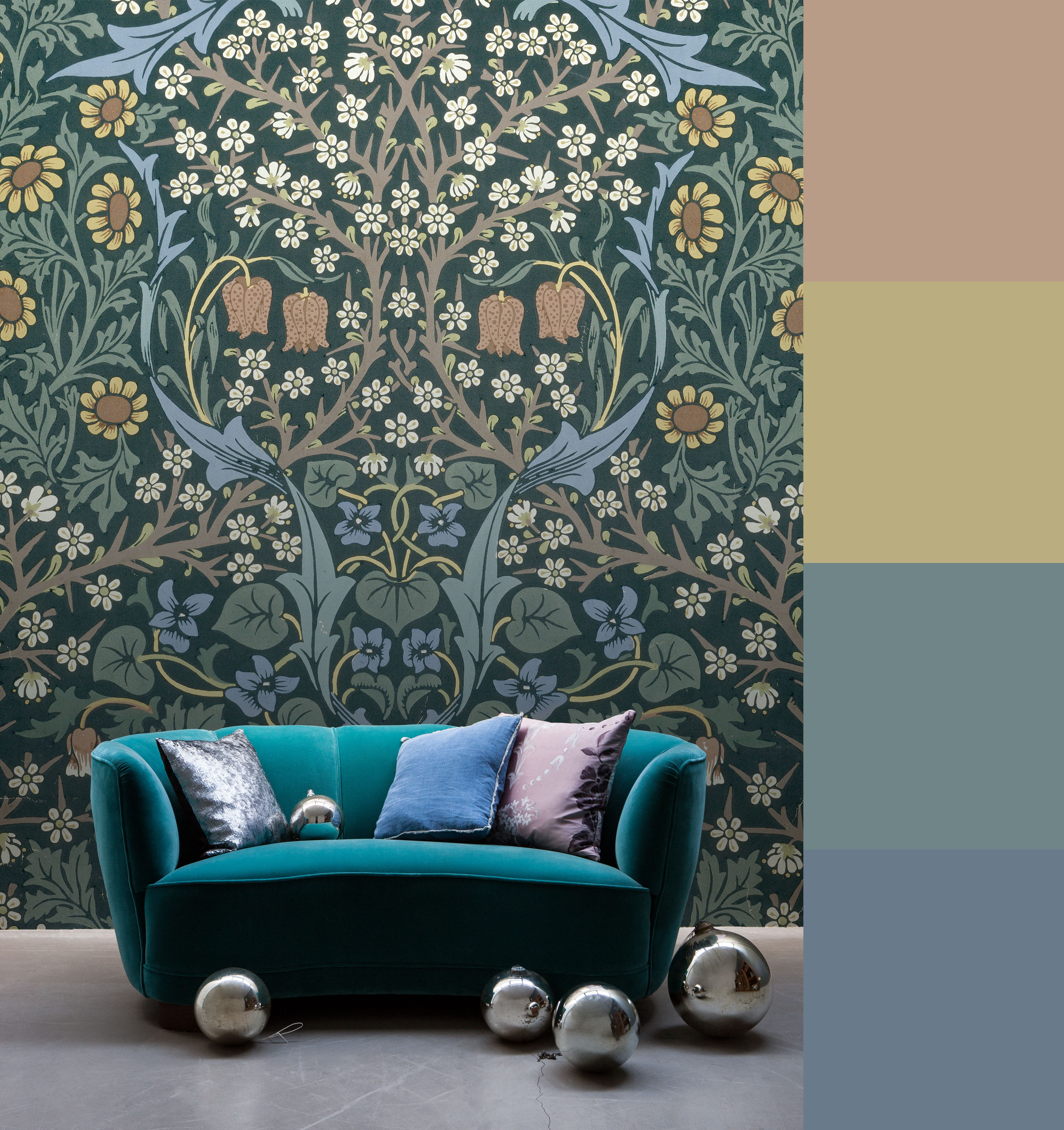 Q. We have a 3 storey town house which gives us an extremely high wall area next to the stairs. It needs something dramatic and wonderful that doesn't scare the children. Our friends have a giant map of the world on theirs but their house is more period and I feel that might not work in our new build.
- Jaina Minton via Instagram
Rohini: I love the idea of a giant map of the world or something adventure / explorer related - I think they work really well in a family home.
For something more graphic for a new build you might want to look at The National Railway Museum collection at it has some beautiful abstract painterly posters of destinations in England - one of your home-town or region might make a nice permanent fixture.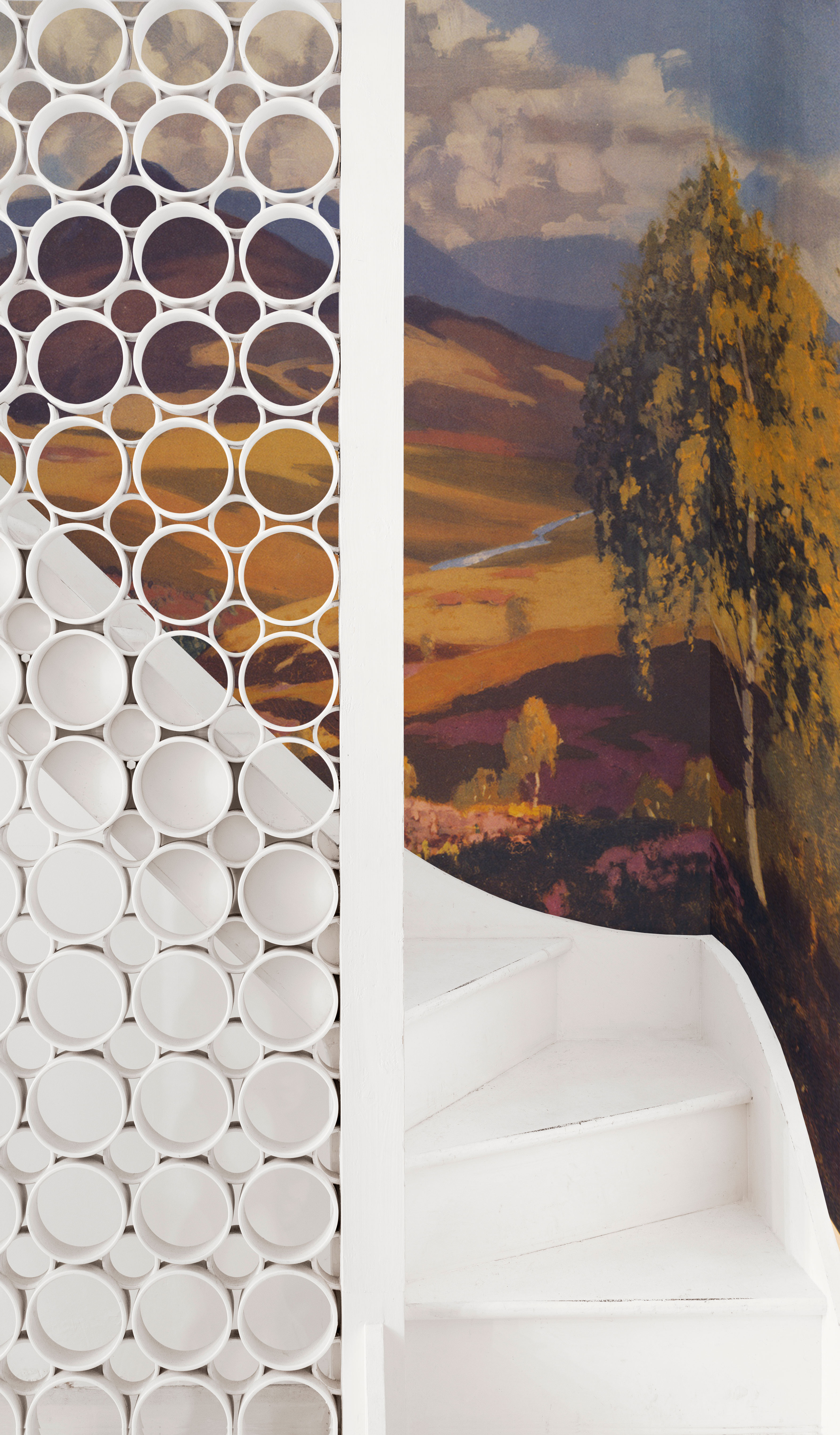 'Britain In Autumn' Mural | National Railway Museum
Q. I want to make a feature with a large canvas, but I don't want to go too small or too big. Is there a rule of thumb? I will be putting it behind my sofa, so part of it may not all be seen, which isn't a problem. Thank you!
- Sandy Perkins
Rohini. To create balance your canvas should be at least 2/3 the length of the sofa - unless you have a really large room it's not recommended to go wider than the couch. As a general rule, the bottom of your canvas frame should hang 8" to 10" above the back of the sofa.
If you hang your artwork too high it will look like it's floating away from the couch instead of being connected to it. Keep your wall arrangements low enough to enjoy when you're sitting.
Q. I live with other people, how can I include their different tastes but still compliment the overall design scheme?
- Lucy Burns
Rohini: I would do this by trying to stick to a colour palette or theme and try and tailor the objects you decorate with to that theme - so if everyone has their own tableware or ceramics - pick out one colour that is common for example green ceramics and highlight those on a mantelpiece or in a display.
Or a natural theme is always timeless and guaranteed to work together elegantly - pick wooden items, pottery, pale hued objects and team together. I love how this image of very different items on a mantelpiece works really well because of their handmade ceramic nature and also great composition.
Q. My living room has a really neutral palette of grey and white, I want to inject some colour in but I'm a bit wary. I was thinking a large canvas or mural with splashes of colour, but I don't know how to balance a feature piece with curtains without becoming too busy or too safe.
- Bianca Watts

Rohini. I have pretty neutral tastes too and I always work up from a neutral colour palette into colours that are earthy or could still be considered neutral like yellows, browns, ochres and soft pinks. You can filter searching for artwork on the site by colour - pick grey (this gives you all the options of artwork in grey) and watch the magic happen!
I'm actually a little in love with this vintage Circles and Flowers print by Parisian textile house Atelier Zina de Plagny which I think would add the perfect edge to a neutral room. All the base colours - off-white, brown and black fall in the neutral category - it's organic and abstract so it isn't really saying anything yet it is making a style statement with the delightful, contemporary flashes of pink. Go for it!
Q. I live with three boys and it's a constant battle to keep the house looking nice. I really want to add some touches to my bedroom that aren't too feminine but creates a calming space to chill out after a hectic day. I'm open to suggestions big and small!
- Jen Campbell

Rohini. I'm not big into overly feminine design despite having a little girl - I like to soften things with texture and subtle colour. I find there is nothing more luxurious and calming than fabric on a wall - have you ever walked into a National Trust property with a tapestry on a wall?
The sound in the room feels sort of cocooned - not a bad atmosphere to replicate when living with three boys. I would go for a wall hanging perhaps behind your bed-head (or equally nice on another wall more visible to you) you will be amazed at what a difference it makes to the feeling of your room.
Q. I'm freshening up the children's playroom to reflect their ages (now teenagers!) I want the room to feel playful but functional. I have two children, a girl aged 14 and a boy aged 16 so I need it to work for both of them. How do I go about creating a really fun, modern area for them to relax and socialise in?
- Bryony Watkins
Rohini. How fun and hopefully a more mess free playroom?! I recently found a room in Living Etc styled using Surface View's Full Moon canvas that I thought would look really rock and roll in a teenage room - I love how the print is stretched over the two canvases adding that playful element you were after. You could use any image to do this but I think the moon is pretty whimsical and cool.
Thanks to the wonderful Rohini for answering all your questions, find more about Rohini on her blog The Beat That My Heart Skipped.