To celebrate the start of the RHS Chelsea Flower Show, we take a look at how you can refresh your outdoor spaces. Transitioning from home to garden, outdoor dining and living areas are key to a fully utilised home and garden.
We caught up with garden designer and Chelsea Flower Show gold medal winner Juliet Sargeant, Fellow of the Society of Garden Designers (FSGD), on why she took the jump from practicing doctor to award winning garden lecturer and designer.
"I grew up in the countryside at a time when children were still allowed to run a little wild on their own. I would spend many hours playing with my friends in the woods and enjoying being in the fresh air and open spaces." These early memories still inspire Juliet's garden designs now, "many of my gardens are about re-capturing that sense of freedom and wonder, which I first discovered in my childhood playground".
Juliet's career continues to flourish, now a Royal Horticultural Society show gardens judge, Juliet was the first gardener to design a social campaign garden at the Chelsea Flower Show in 2016 to raise awareness about the issue of Modern Slavery. Winning not only a Gold Medal but also the People's Choice Award, Juliet has gone on to design gardens for the RHS including an outdoor kitchen for BBC Saturday Live Kitchen's Hairy Bikers.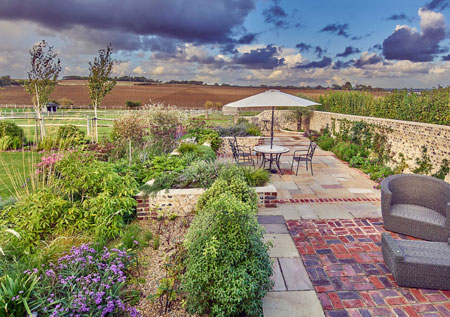 A garden design by Juliet Sargeant, photos by Matthew Thomas Photography
Reconnecting with nature
The growing need for disconnecting from the digital world has become increasingly more significant. With so much research demonstrating the vast benefits on our health, including reducing depression, anxiety and stress, gardens are becoming more important in the home.
As an ex doctor, Juliet explains "there is now enough scientific evidence to put the health benefits of access to outside space beyond question". Utilising the research in her designs, Juliet uses the studies as a starting point to her designs "we now need more research to guide our design processes. Which are the most useful plants? How should the spaces be designed and most importantly, how do we help people to gain access to the very best spaces for their physical and mental health?'
What you can be certain of is that any time spent tending to your garden is time well spent. Juliet elaborates "for home gardeners, we can be sure that whatever time you spend outdoors in your garden will be doing you good, both physically and mentally".
Get green fingered
So we know gardening is good for us, but how exactly do we do it? "Successful gardening is all about observation. If you look at how plants grow naturally, they will tell you what they need in your garden. Look at what is growing happily in your area and in your neighbour's garden and start with those plants".
Don't let the fear of getting it wrong hold you back, Juliet advocates 'have-a-go gardening' "plants are pretty robust, it's in their DNA to survive. So, my advice is to start with less expensive plants. Look at what nature does, get started as soon as possible and above all enjoy it".
Juliet advises that the quality of your soil is crucial to the success of your flowers "one thing that is always worth investing in, is the improvement of your soil. Before you plant anything, get your soil in to the right condition, so it will support your plants to thrive for many years to come."
And the best plants for minimal upkeep and maximal payoff? "Trees, shrubs and bulbs, such as tulips are the stalwarts of any low maintenance garden, but I also use 'well behaved' perennials as well.
Agapanthus form neat clumps that do not invade and flower well. Penstemmons do need dividing after a few years, but they flower for a long time. Astrantias also flower for years, as do Rudbeckias. Peonies do not flower for long, but I can forgive that because their leaves are so beautiful-almost shrub-like".
Refresh your redesign
When starting a garden redesign work out how you want to use the garden and what time you can realistically put into maintaining it.
Juliet takes the time to understand how a garden will be used when beginning to design, "my approach to designing a space for my client stems from my time as a doctor; it makes my designs very person-centred. All my designs start with getting to know my client as best I can and exploring the way that they relate to nature and the landscape and any ways that they would like to improve their connection to the environment"
Juliet ensures she delivers a design which works for the client, understanding not only the time that they have for gardening but also their current skill level. "There is no point saddling someone with a garden that has complex requirements if they neither want to nor are able to undertake that work".
Implementing this method when designing your own garden will help create a design that works for your and the whole family and is ultimately a more successful garden design.
For patios and decked areas, Juliet suggests "invest in a good quality hard landscaping areas that are designed to work for you and the way that you want to use the garden. These are the parts of the garden that are, quite literally set in stone, so make sure you get them the right first time to avoid any unexpected costs. The planting can happen more gradually and there are plenty of ways to obtain plants cheaply, such as cuttings and seeds from friends".
Once you've got the foundations of your garden sorted, think about incorporating some artwork for a twist. "I like to use art and pattern in my gardens as metaphor and meaning; a way to stimulate thought and feeling. I look for artwork with a connection with the owner. Perhaps look at using an image or pattern derived from a plant that is central to the planting scheme, or an image that reflects something inside the house. For example, if you have a lush tropical planting in the courtyard just outside the kitchen, wouldn't it be great to reflect that inside with a mural or with ceramic tiles".
Shop our full RHS Collection here.
Juliet will be at the RHS Chelsea Flower Show again this year filming with the BBC for the Gardeners World coverage of the show. She will also be looking at plants in the Great Pavilion and commenting on some of the fabulous show gardens. Find out more about Juliet's design services here and her latest garden workshops here.