We teamed up with blogger duo Ros and Jill at My Friend's House to spread the word about our fabulous Wall Murals. As a huge fan of Surface View, Ros jumped at the opportunity to create something beautiful for her seaside flat. But as with every great opportunity comes great responsibility and the pressure of choosing the right image as wall art for her flat started to set in.
Read below how Ros sifted through the thousands of images to arrive at her decision and see the stunning Mural in all its glory.
The site has lots of tools to help you find what you want, firstly being organised into collections by theme or place of origin. I trawled through all the collections for images that appealed to me and made myself a 'shortlist' of 40 items. In order to whittle it down further I had to come up with rules for myself. I had a really hard think about what I think works on walls and what doesn't, and also tried to factor in that this was a serious investment.
Surface View have a wonderful archive of photography, from the technicolour glamour of 60s magazine stills at the V&A collection to a very tempting series of faded black and white images of an Arctic voyage in the Trunk Archive collection. In the end though I felt that photography wasn't an appropriate fit with the old house the mural would be going in to, and also there is something a bit more commercial-feeling about photography.
Being a wallpaper nut I was very tempted towards images that looked more like a super-expensive wallpaper than a single image, but I kept reminding myself that this was a one-off opportunity to choose something dramatically different, so a single image it had to be.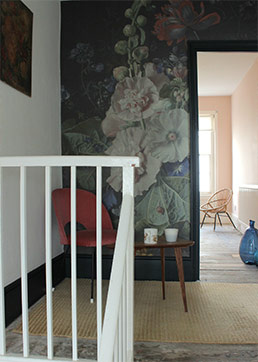 I loved the idea of something playful, and so saved a few religious and historical paintings. The Ambassadors by Hans Holbein the Younger, which reminds me of Chaz and Dave, for example, or a reclining Madame du Pompadour. But each seemed too bold a statement, so I chickened out.
Bookworms will love Surface View's selection of images from The British Library collection, including lovely illustrated pages from Edward Lear and Alice in Wonderland. There are also wonderful vintage travel posters in the P&O collection and a section of 60s graphic art. However I wondered how long I'd enjoy looking at the words.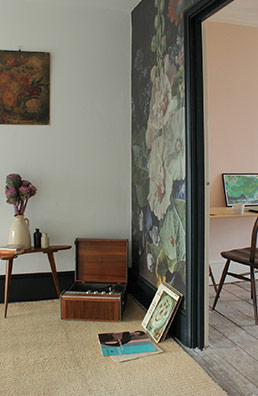 What I finally realised was that the most important thing was to pick an image that I'd still love when it was blown up absolutely huge. Many images I liked, when I looked more closer with the site's zoom, worked better from a distance. I wanted to make sure that I picked an image I could sit and stare at, and which would reveal more and more to me the longer I looked.
Which brought me to a surprising final choice that was nowhere near my first instinct - the Old Masters. I'd already been buying up prints of floral still lives, and loved that the almost photo-realist style of flowers painted in the 1700s just got more fascinating the closer one looked. Timeless and decorative, these images had natural drama and created an atmosphere all of their own.
I finally picked out Hollyhocks by Jan van Huysum. The depth of the background, the colours, composition and dizzying detail seemed like the sort of thing that would keep me engrossed for years.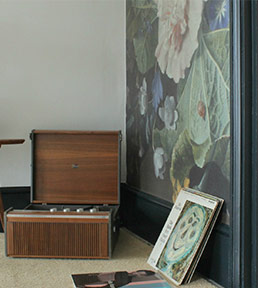 Using a mural in perhaps an unconventional way, Ros' landing was an unusual choice. With the luxury of vast space, Ros wanted the landing to become a little snug of its own. "I liked that this wall had a doorway in it, leading to a sea-facing room that I'd already painted a warm plaster pink from Farrow & Ball.
It added complications to my choice of mural, as I had to pick one where the nicest bit of the image wouldn't be cut away by the door. I love how the black woodwork around the door frames and merges with the mural, and the pink in the room beyond picks up on the colours at the centre of the mural.
The image itself gets deeper and darker in colour towards the right hand side – in the flat, this darker area runs down the other side of the door frame, and it means the image as a whole blends in with the black wall that is behind it."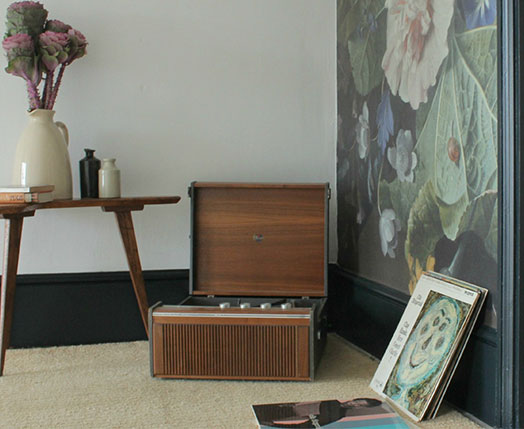 "As for putting the mural up, I picked a Just Stick it Up ™ finish. This means that the mural comes with an adhesive backing. You just pull away the plastic film from the back and stick it up. It sounds easy… and it pretty much was. The adhesive cleverly lets you position and reposition the mural on the wall so you have more than one go to get it right – and unlike any other wallpaper I've ever put up, this finished project has no air bubbles in it anywhere. I won't say the whole process was pain free – a nasty moment when the adhesive backing stuck to itself resulted in a tirade of most unsuitable language which my assistant for the day ignored with admirable patience and calmness.
Surface View's service not only lets you pick the image and dimensions of your mural, but it also lets you pick your own crop as well, so I was able to make sure the most important elements (to me) of the image fitted around the door frame. The finished mural really does look great, and each time I come up the stairs and turn the corner to see it, it delights me all over again. I'm looking forward to living with it and getting to know it better and better.
Thanks to Ros for the brilliant, detailed review of our Mural, we absolutely love the finished look!