What is the Pantone Colour of the Year?
Announced each year in December, colour experts Pantone, champion a colour to represent the following year. The Colour of the Year plays a part in influencing product development and purchasing decisions across a myriad of industries including Fashion, Interiors and Branding.
Pantone Colour of the Year 2019 - Living Coral
In 2019, Living Coral was announced as the Pantone Colour of the Year. Described as 'an animating and life-affirming coral hue with a golden undertone that energizes and enlivens with a softer edge'. Living Coral was chosen 'in reaction to the onslaught of digital technology and social media increasingly embedding into daily life'. Living Coral not only draws attention to our reliance on digital technology but also spotlights the impact of our choices on the environment and the rapidly decreasing coral reefs across the world.
A fun and energizing colour to use in our interiors, Living Coral adds a feminine touch to bathrooms, living rooms and kitchen walls. Evoking the feeling of long summer days and nights, the golden salmon pink can be used to cover walls or as an accent in mural wallpaper designs and on a smaller scale in canvases and prints.
Browse our favourite Living Coral inspired images here.
Bleached Coral
In response to Pantone's Living Coral, Australian design studio Jack and Huei, suggested that Living Coral didn't accurately represent the state of coral in our oceans. Instead, they recommended 'Bleached Coral' was a far better depiction.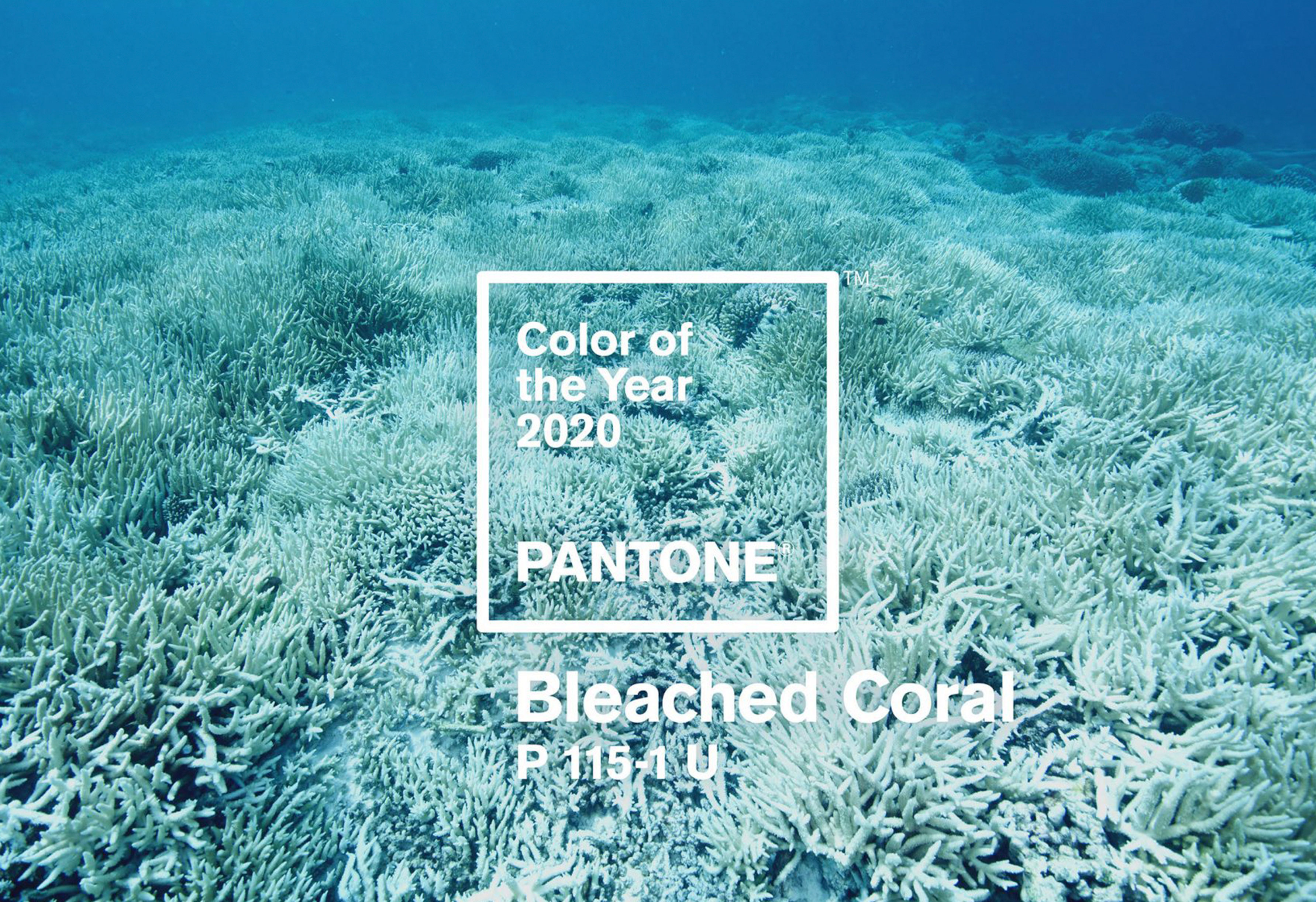 Selecting a pale blue shade, Bleached Coral illustrates the damaged and dying coral reefs, and raises awareness of an important environmental issue.
This cool blue shade has often been a popular choice for decorating living rooms, bathrooms and bedroom walls. Offering escapism from everyday life, our photographic collections from Nic Miller and the Trunk Archive offer some of the best seascape imagery. The tranquil coastal scenes of tumbling waves and still water celebrate the beauty of nature. Scale-up and showcase these stunning images as mural wallpapers and our ceramic tiles.
View all of our Landscape photographs and paintings here.
Pantone Colour of the Year 2017 - Greenery
A fresh and zesty yellow-green shade described as 'natures neutral', Greenery is 'illustrative of flourishing foliage and the lushness of the great outdoors'. A versatile shade which lends itself to many colour palettes, pair with neutrals, deep shades, pastels and metallics. Greenery can be used over large areas without becoming overwhelming and is ideal for key rooms in the home such as the living room and kitchen. It's also a nice alternative for bathrooms, hallways and home offices.
We love these artworks from the V&A, Royal Horticultural Society, Natural History Museum and New York Botanical Garden archives. Transformed into large scale mural wallpapers, canvases and prints, Greenery easily breathes new life into your interiors.
Browse our collection of Greenery inspired images here.
Our predictions for Pantone Colour of the Year 2020
As we await the official Pantone Colour of the Year 2020 later this month, we've put together our top three predictions.
Green Lily
Green Lily is a sophisticated shade that depicts a deeper understanding and appreciation of nature. Almost a near-neutral shade, Green Lily is complemented by grey, blush pink and earthy tones such as brown, taupe and cream.
Poppy Red
Warm and inviting, Poppy Red is bold, eye-catching and confident. Indicative of excitement and energy, Poppy Red is more intense than the previous red Pantone Colour of the Year 'Chili Pepper' in 2007. Use this shade to contrast with pale pinks and bright orange shades or tonally with neutral white and cream tones.
Find bold red shades in J.J Audubon's gorgeous Flamingo painting and in floral studies from the New York Botanical Garden Collection.
Classic Blue
Offering a calming effect, Classic Blue promotes wellbeing and self-care. At kin with mindfulness, Classic Blue is reminiscent of sky and water, taking you back to nature and away from the fast pace of the modern world.
Team Classic Blue with tonal shades of blue and purple for a tranquil feel to your home. The stunning painted studies of skies by John Constable from the V&A collection showcase how easily scenes of nature fit in contemporary interiors.
What do you think will be crowned Pantone Colour of the Year 2020? Do you think we've got any of our predictions right? We'd love to hear, let us know on social media.