This year it's all about taking the emerging interior trends from 2018 up a notch and embracing the colour palettes of 2019 in interior products that are unique to you. Personalisation is big for 2019.
Pantone Colour of the Year – Living Coral
Whatever the tastemakers at Pantone predict, it's usually a big year for that colour and 2019 is set to be no different.
This year's Colour of the Year, Living Coral is 'an animating and life-affirming coral hue with a golden undertone that energizes and enlivens'. The colour 'symbolises our innate need for optimism and joyful pursuits'. We couldn't agree more, the playful golden coral shade sparks joy whenever we see it.
We love this glorious hot Lily pattern by Mabel Royds as a large scale statement wallpaper in a study, or this fresh lemon and blossom design by Michael Angove to add a feature mural to your bathroom.
How about this Honey Blossom mural for the dining room? Team with pops of colour for a smile inducing interior.
If you're looking for something to spice up your kitchen, this dazzling abstract photograph by Richard Osbourne is reminiscent of sunsets across a calm and endless sea. Pictured as a tiled splashback in a contemporary kitchen, our printed mural tiles are a unique addition to kitchen designs for 2019.
Or make a feature with our New York Botanical Garden floral patterned tiles for the bathroom. Splash big, beautiful blooms across the walls in warm tones that will take you from the morning rush to recharging and relaxing at the end of the day.
Midnight Tones
Building on 2018 trends, rich, dark tones are set to stay. Sidestepping from paint and into pattern, find inspiration in contemporary and classic patterns.
From William Morris' classic wallpaper patterns that show no signs of ageing, to contemporary designers luxurious colours and motifs provide the perfect cocoon for maximal escapism.
Our favourites for 2019 are the V&A's William Morris' 'Blue Iris' and 'Snakeshead' patterns. Used as large scale wall murals or stunningly dramatic patterned tiles in an 'old meets new' style bathroom or kitchen, you can always rely on the Arts & Crafts master for delicious designs
The British Library's inky blue marble design originally from the inside of aged books, is reimagined as a statement wallpaper mural. Complementing both contemporary and period house features.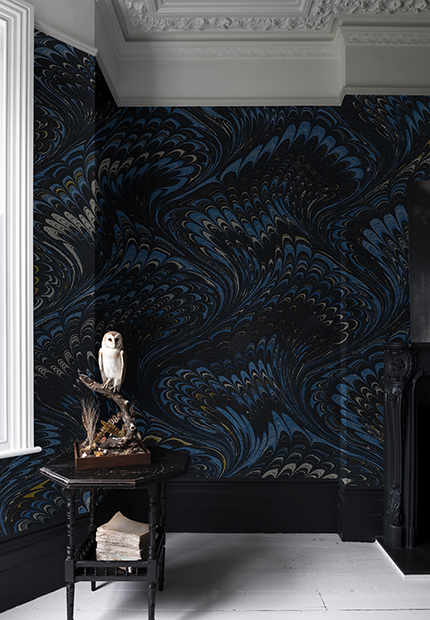 For a contemporary twist, Michael Angove's Iris design of jewel colours set on a midnight black background as the backdrop to a bedroom. Not forgetting the hallway, Michael Angove's fruity Pomegranate design creates an inviting space to usher guests into.
Millennial Pink
Step aside white, grey and greige – pink is becoming the most lusted after neutral. Throwing back to 2016 when Rose Quartz was crowned Pantone Colour of the Year, our love affair with pale pink has continued to grow.
Surprisingly versatile, the nude hue complements natural colours and textures or provides a contrast to deeper, more punchy tones. Less girly and more grown-up chic, Millennial Pink is a warming colour that will be springing up everywhere from wall coverings to furnishings and fashion, in the shape of florals, geometrics and textures.
Our shortlist of perfect pinks start with fresh florals from Trunk Archive and the National Galleries of Scotland. Ideal for a kitchen backdrop, Trunk Archive's soft dusky 'Spring Loosely' wallpaper mural injects some feminine charm to a contemporary space. Whilst Ella Doran's 'Wood Grain Pink' wallpaper mural introduces a contemporary texture to this classic bedroom.
If you fancy something more striking, Mabel Royds 'White Lilies' mural from the National Galleries of Scotland collection combines pastel pinks and blues with bold blue highlights in this striking statement wallpaper.
Greenery
In an ever-evolving urban landscape, the power of nature prevails. With ample health and wellbeing benefits, plants within the home are becoming increasingly popular, even for the less green-fingered among us. This trend doesn't stop at indoor gardening and bifold doors that open our rooms onto the garden, it continues throughout the home in wall coverings, art, blinds and home accessories.
In 2019 we see this transition from the tropical trend of 2018, to leafy botanicals that create calming, meditative spaces, the perfect haven as we make sense of this increasingly digitally dependent world. And the beauty of this trend is that it's simple to achieve.
Add your favourite botanical prints to a wall using a framed print or canvas, update a blind or install a wallpaper mural. Select a feature wall or paper a few walls, all our mural wallpapers are pasted the wall or self-adhesive backed. It couldn't be easier.
Try browsing the Natural History Museum collection, the perfect destination for leafy, botanicals. From fanned out palms by John Reeves in cosy reading nooks to delicate watercolour leaf studies by James Miller and budding botanical leaves by John Fleming - and the obsession for greenery is growing and we love it.
Look to Royal Horticultural Society (RHS) and New York Botanical Garden collections for bold botany taken to the next level. Detailed botanical scenes from the RHS include trompe l'oeil 'Winter Garden Antoine' archway by Ludwig Czerny and sumptuous hand coloured floral studies by Augusta Whitters. The perfect backdrops to a decadent dining room - transporting your guests to a faraway destination.
Find three of Czerny's stunning works below in the full RHS collection, including 'Winter Garden Interior' which was featured on the BBC's Great Interior Design Challenge by runner up Interior Designer Jordan Cluroe.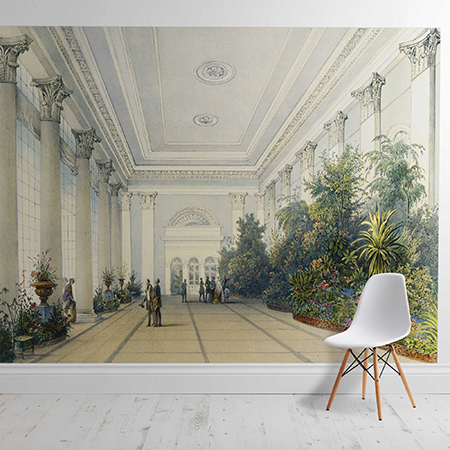 A new addition to the New York Botanical Garden collection is Bernard and Harriet Pertchik's 'China Berry' mural seen here framing a doorway and celebrating the intricate period features whilst creating a focal point to the room.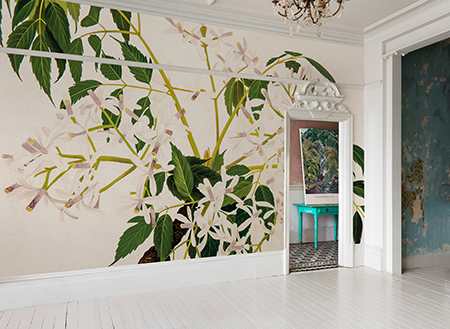 What do you think of the trends this year? Will you be trying out any in your home? Let us know in the comments below or on social media on @surfaceview.
Wishing you all a happy new year and happy decorating!